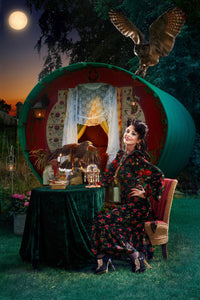 Get to experience close contact with these majestic birds while we make you look like the most fabulous tarot reader. 
If you have a bird phobia or you rather not use the birds of prey there's an option to shoot without them. 
We will send all photographs taken for you to chose one to be fully edited in a night time setting with candle and moon light. This editing process takes hours. 
Hair and make up is also available to purchase separately or you are welcome to do your own. Please contact us if you'd like to book for hair and make up. 
Once you book we will contact you about time slot and details. 
Shoot date available Saturday September 24th in Halifax, West Yorkshire.